The Nutcracker
The Dance Connection's Nutcracker is central New Jersey's original youth ballet Nutcracker. Young ballerinas and dancers from ages 5-18 dance a narrated and abridged version of Tchaikovsky's classical ballet. Our Nutcracker is about 1 hour and 15 minutes long and we invite all families and children up on stage to join us after the show. It's perfect for young audiences!!
The Nutcracker Performance schedule 2018
Brook Arts Center
10 Hamilton Street
Bound Brook, NJ 08805
Saturday, Dec 8th 2018, 1:00 p.m.
Purchase Tickets
Hillsborough
Hillsborough High School
466 Raider Blvd
Hillsborough, NJ 08844
Sunday, Dec 9th 2018, 4:00 p.m.
Purchase Tickets
Kelsey Theatre
MCCC, West Windsor
Friday, Dec 14th at 10 a.m. & 7 p.m.
Saturday, Dec 15th at 1 p.m. & 4 p.m.
Sunday, Dec 16th at 1 p.m. & 4 p.m.
Purchase Tickets
Be part of The Nutcracker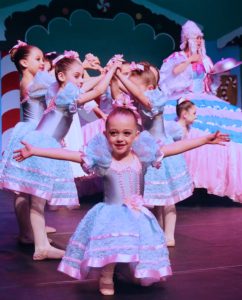 For our dancers, being part of The Dance Connection's Nutcracker is a significant and memorable experience of their youth. Dancers build confidence in themselves, and their dancing, while collaborating with their fellow cast members and crew to perform for thousands of people throughout New Jersey. In addition to developing their ballet technique, company dancers take class together, rehearse together and build lifelong friendships. The entire ballet is performed by children and teens. Any child in kindergarten or older is welcome to be part of The Nutcracker. Beginners are encouraged and welcome to audition.  Contact us if you want to be notified about audition dates.
For Parents looking for a ballet academy for their children, The Dance Connection is a well established New Jersey ballet school. We are located nearby in Hillsborough NJ.